Cataract Surgery in St. George, Utah
What are Cataracts?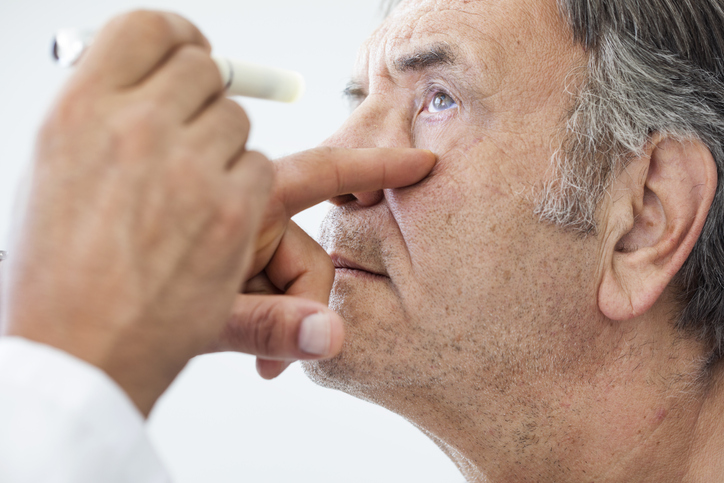 Cataracts are the leading cause of visual loss in adults age 55 and older and the leading cause of blindness worldwide. By age 65, about half of the human population has a cataract, and by age 75, almost everyone has some form of cataract. However, cataracts are highly treatable, and through advances in both cataract surgery and intraocular lens implants, more people are experiencing full restoration of their vision than ever before.
If you suffer from cataracts and are in need of cataract surgery in St George UT, Mesquite NV and surrounding areas, call today to schedule an appointment.
---
What Causes Cataracts?
Most cataracts develop when aging or injury changes the tissue that makes up the lenses of our eyes. As we age, the lens becomes less flexible, less transparent, and thicker. Tissues within the lens break down and clump together, creating clouding. This begins in very small areas, but as the cataract develops the clouding becomes denser and covers a growing area of the lens. The growing cataract scatters and blocks the light as it passes through the lens, presenting cloudy images to the retina in the back. Cataracts generally develop in both eyes, but they don't develop at the same rate.
---
Cataracts Treatment Options
Although stronger eyeglasses or brighter lighting may help relieve symptoms of a cataract in the early stages, cataract surgery is the only cure and the most common form of treatment. In fact, millions of people undergo this vision-saving procedure each year. Cataract surgery is a relatively simple outpatient procedure where the eye's natural lens is removed and replaced with an artificial lens, called a intraocular implant (IOL).
Intraocular Lens Implant
Much like a camera, your eye's natural crystalline lens plays an important role in focusing images. When a cataract clouds the lens, it makes it virtually impossible to see clearly. When your cataract progresses to the point that daily tasks become difficult and interferes with your quality of life, you will need cataract surgery. During surgery, your eye's natural lens will be replaced by an intraocular lens, or IOL. An intraocular lens is an artificial lens made of silicone or acrylic that performs the function of the eye's natural lens. Most of today's IOLs are around a quarter of an inch in diameter and soft enough to be folded so they can be placed into the eye through a very small incision.
Learn More About Intraocular Lens Implants
---
Laser-Assisted Cataract Surgery
Just as you have options when it comes to choosing the IOL that you receive during cataract surgery, you also have the option of choosing the technology that's used to perform the procedure. That means you have the choice between cataract surgery performed manually using ultrasound or with the assistance of laser technology.
Either procedure can be effective when performed by our skilled surgeons, but laser-assisted cataract surgery procedures are generally more predictable and precise. Laser-assisted cataract surgery technology can automate certain steps of the procedure with laser precision. If you opt for laser cataract surgery, your surgeon will operate the LenSx® Laser, which offers a level of accuracy exceeding that of manual surgery methods. The LenSx® Laser first images your eye to plan a procedure that's unique to you. A bladeless, computer-controlled laser then helps your surgeon perform your surgery with exacting, individualized precision not attainable with traditional surgical methods.
---
ORA-Guided Cataract Surgery
There is a revolutionary and innovative technology called ORA (Optiwave Refractive Analysis) that allows your surgeon to analyze your eye and tailor your treatment, including the IOL power, during your cataract surgery.
ORA measurements are taken after the cataract is removed, when the surgeon has a clear view of your eye. This incredibly accurate, real-time display of your eye provides the surgeon with an unprecedented level of information about your eye and allows for the customization of the procedure to achieve the best possible visual outcome.
---
What are the risks involved with cataract surgery?
Cataract surgery is very safe and successful, returning clear vision to patients who have been dealing with increasingly cloudy vision. Complications are rare, and when something does occur it can usually be corrected. Your risk of complication is greater if you have another eye disease such as macular degeneration or glaucoma.These are the risks with cataract surgery:
Inflammation
Infection
Bleeding
Swelling
Drooping eyelid
Dislocation of the IOL
Retinal detachment
Glaucoma
Secondary cataract
Loss of vision
---
Frequently Asked Questions
Can I Prevent Cataracts from Developing?
There doesn't seem to be any way to fully prevent cataracts from developing, as they are caused by changes in the tissue of the lens. The process that causes these changes isn't fully understood. But there are some risk factors that increase the possibility of developing cataracts, so these could be some helpful ways to slow the development of cataracts in your eyes:
Quit Smoking — Smoking increases the risk for developing cataracts.
Manage health conditions that affect the eyes, such as diabetes and high blood pressure
Eat Better — Eating lots of fruits and vegetables ensures you get the wide variety of vitamins that keep your eyes healthy. They also have high amounts of antioxidants, which have been shown to possibly decrease the odds of developing cataracts.
Wear Sunglasses — Exposure to ultraviolet light from the sun is thought to contribute to the development of cataracts. Sunglasses block these UV rays.
Keep alcohol use to moderate amounts
Questions? Contact Richens Eye Center Today
---
When Am I Likely to Develop Cataracts?
Cataracts are caused by a build-up of protein and other changes in the tissue of the lenses of the eyes. They develop slowly over time. The initial develop isn't really important — what matters is when you start to notice the changes in the quality of your vision. In most people, their cataracts will start to become noticeable sometime after they turn 60.
---
Is there any way to correct cataracts other than surgery?
No. The cataract-clouded lens needs to be surgically removed and replaced with an IOL. The condition is not reversible with any other treatment method.
---
When should I have cataract surgery?
Statistics show that in Americans over age 80, fully half either have cataracts or have already had the surgery to correct the condition. After the age of 60, the odds are very high that you will develop a cataract in at least one eye. This could be even more prevalent in St. George and Mesquite with our abundant year-round sunshine, as UV exposure is a risk factor.
So, when should you have your cataracts addressed? Of course, that answer is up to the individual, but Dr. Richens would advise you to consider the surgery when the clouding begins to affect your quality of life. If you're having blurry vision, glare from lights when driving at night, and other issues, it is probably time to have surgery. After all, this surgery is very common, very successful, and easy to recovery from. Every day you wait is just another day where it's kind of like you're looking through a dirty window. Who wants that with all of the beautiful vistas to see in St. George and Mesquite?
---
---
---
Richens Eye Center proudly provides patients from St George, UT and Mesquite, NV with cataract surgery. If you suffer from cataracts, contact us at our St George locations at (435) 986-2020 and (435) 628-1112, or our Mesquite location at (702) 346-2950. You can also fill out our Request An Appointment form.
---